Maultaschen – a special German type of Ravioli
Ok, if I am honest, they are nothing like ravioli. And every German reading that I am describing them to you as "ravioli" will probably roll their eyes at me. Because Maultaschen are so much more. If you had to describe them: they are a filling of minced meat with spinach and parsley, wrapped in pasta dough. It is a traditional dish from the south of Germany, more specifically the Swabian region around Stuttgart. It is said that monks invented them to hide the meat from Gods eye during lent: if you cannot see it it isn't there.
I was born in Stuttgart but didn't grow up there. And yet I love dishes from that region. Because every time I am eating "Spätzle with Saitenwürschtle" or a real potato salad (one made with vinegar, instead of mayo), I am thinking of my grandpartens. Because each time we visit them they cook amazing food for us. One of my highlights always are the homemade Maultaschen from my Grandma.
In Germany you can buy Maultaschen in stores, but they don't even remotely compare taste wise to the ones my grandma makes. While the bought ones have a rather thick dough around them, hers are very delicate. While the filling in the bough ones more resembles a mush, the homemade ones are more coarse and taste more intensive. I also find, that while you can eat 6 or 7 of the homemade ones bevor one is full, you can only manage around 3 from the store bought ones.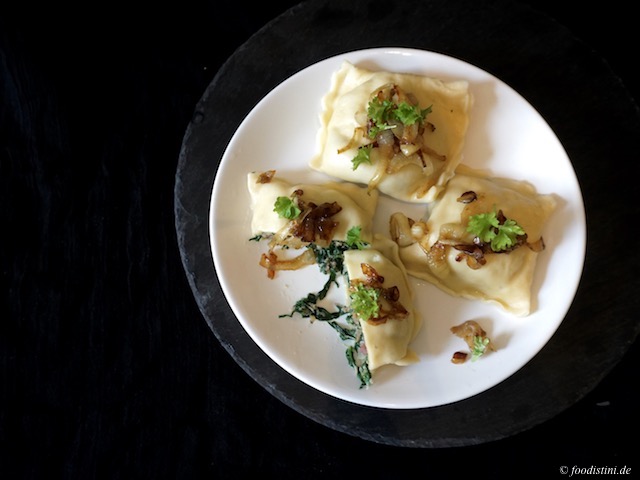 These here are not made from the original recipe of my grandma but instead from a great cookbook from Matthias Mangold: Die schwäbische Küche. Only his recipe for the pasta dough (and a few ratios of the ingredients) I changed, because I already showed you how to make pasta dough yourself. And one more word regarding the ingredients: in the original Swabian recipe you would use "Brät". A German word which here means: very, very finely minced meat. The consistency you would use to make sausages. But it works just as well with normal ground meat and I like it even better that way.
---
Recipe – Maultaschen
Amount: 20 pieces
Prep time: 60 minutes
---
Pasta dough – how to<
1 hard, old roll
1 onion
1 small bunch of parsley (ca. 20 g)
300 g spinach leaves
20 g butter
50 g bacon cubes
250 g ground meat
1 egg
salt, pepper, muscat
---
Prepare a pasta dough (how to).
Soak 1 old normal roll in water (so put it in a small bowl, fill the bowl with water and weigh down the roll with a plate).
Peel 1 onion for the filling and cut it into small cubes.
Mince a bunch of parsley (about 20 g).
Mince 300 g of spinach leaves (if you are using fresh spinach blanche it first, so: put it for 1 minute in boiling salt water, drain in a colander and cool with lots of cold water; frozen spinach – the one without added cream, and of course thawed – can be used without blanching first).
Now take the roll out of the water and squeeze most of the water out. Then chop it up as well.
Melt 20 g of butter in a pan and saute the small minced onion, parsley, spinach, roll and 50 g of bacon cubes.
Then place everything in a bowl, add 250 g of ground meat and one egg. Now stir everything well together and season with salt, pepper and muscat.
[More information on how to form your pasta dough to a sheet can be found here, while here there is a detailed instruction and information about forming the pasta.]
Roll your pasta dough to a sheet of 6 inch width. Place in a 1 inch distance in the middle one tablespoon of the filling. Then fold the right side over the middle, now the left side and press down lightly. With the handle of a wooden spoon squeeze together the rooms between the filling. Now cut the Maultaschen with a knife in individual portions and pat down slightly.
Steep the Maultaschen in boiling salt water or broth for 6 minutes.
---
You can serve them for example just with caramelized onions or in broth or cut in pieces and fried in a pan.
Cooked Maultaschen can be frozen for alter use or kept in the fridge for up to 2 days.