Cheesy Cookies
Normally most of us only unpack their cookie cutter collection around Christmas. But what happens to all the cute bunnies and mice dreaming in the cookie cutter tin? These get woken up by me around easter!
But not for sweet cookies, but instead salty, cheesy cookies. A dough made out of 4 ingredients and topped with lots of cheese. Normally in our family we call this recipe "Smelly Feet". Because we will use a cookie cutter shaped like a foot and because of all the cheese on top….well you get the joke.
They taste best the day they are made. I like to serve them as finger food at parties or as a bread side to a salad or (almost a tradition in my family for Christmas) as a side to an appetizer of smoked salmon.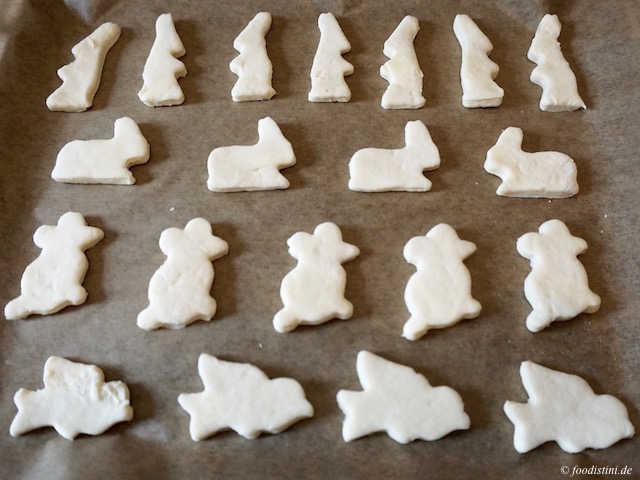 But, a little word of warning: these cheesy cookies do not hold their cookie cutter form particularly well. So it is easier to choose simple uncomplicated forms instead of those with lots of details (so leave the butterfly in the tin and grab the triangle). Besides that it helps to not set the second round of cookies on the still hot baking sheet (from the first round). Instead let the sheet cool off a bit beforehand (to speed things up you might want to use two sheets). And as a last tipp: even though the dough needs to be cooled in between the steps, it helps if you let it warm up a bit (approximately 10 minutes). Then the shape of the forms will hold a bit better.
---
Recipe – Titel
Amount: approx. 40 pieces
Prep time: 30 minutes preparation, 60 minutes cooling, 30 minutes baking time
---
250 g flour
1 pack (16 g) baking powder
1 pinch of salt
250 g (2 sticks + 2 tbsp) cold butter
250 g Quark (So I tried to find the American equivalent, you might be able to find it under the name "farmers cheese", but maybe this here will also help you find the type of cheese I am talking about)
150 g grated cheese
---
Stir together 250 g flour, 1 pack (16 g) of baking powder and 1 pinch of salt in a bowl. Add 250 g of cold butter cut up into small pieces and work it in with a pastry blender or you can criss-cross 2 knifes until the butter crumbs resemble the size of peas.
Then add the 250 g of Quark and knead everything to a consistent dough.
Wrap it in plastic foil and cool it for at least 1 hour.
Preheat your oven to 390° F (200° C, Upper- and lower heat).
Let your dough warm up for 10 minutes outside of the fridge.
Roll out your dough on a floured work surface to a height of 0.2 inch. Cut out figures and set them on a lined cookie sheet.
Sprinkle with grated cheese.
Bake tray at 390° F (200° C, upper- and lower heat) for 10 minutes. Meanwhile prepare a second tray of cookies.
Set the done cheesy cookies on a tray to cool off. While preparing, place the next round of cookies not on the still hot tray, but lay them out on a baking sheet on the counter. When you want to place them in the oven, just pull the sheet on the now cooled down tray.
---
Taste best fresh on the same day, but will keep wrapped airtight fresh for up to 2 days.