simplyfing a tarte flambe without sacrificing taste
A few weeks ago after a very informative law-workshop on the topic of "mergers & acquisitions" we were afterwards invited to a cooking class at Genussakademie. Besides very friendly conversations with the others the motivated cooks showed us how to prepare a tasty 7-herbs-soup or create a very quick tarte flame (which I from now on will call "Flammkuchen").
Since we wanted the recipe to be quick we didn't knead a dough, but instead just used store-bought tortilla wraps. And that worked surprisingly well! Topped with tomato, pancetta and red onion they were a tasty intermediate course. And I realized once more how great a simple Flammkuchen can taste.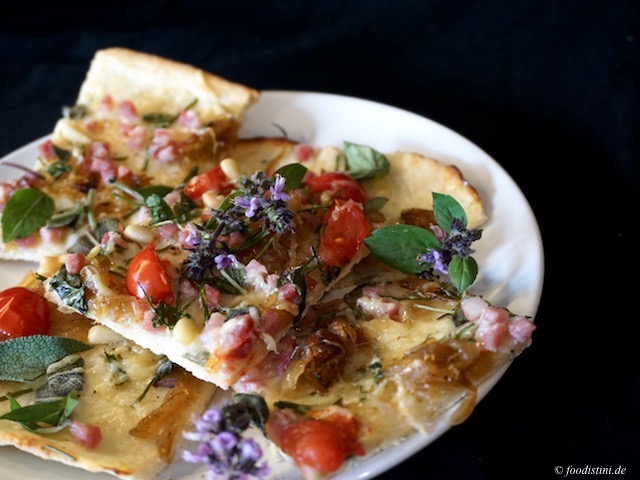 And it gave me food for thought. How could I make something this tasty even quicker and simpler at home? Well, on the one hand using the store-bought wraps. But I still included a recipe for the traditional dough below, if you want to go the extra mile. And in the cooking class we used a mix of creme fraiche and egg for the topping. Yet normally I never have creme fraiche around, but plain yogurt, well that can almost always be found in my fridge. And if you mix plain yogurt with a bit of starch it turns to a creamy consistency in the oven that comes very close to creme fraiche.
And finally: if you pull the prepared Flammkuchen directly on a baking paper onto the preheated baking sheet, it will turn out especially crunchy. It is the same principle as in my pizza recipe: if you do not own a pizza stone just use a hot baking sheet instead.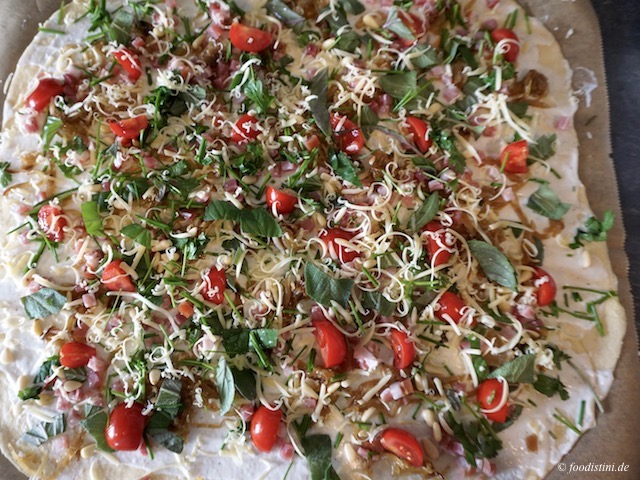 ---
Recipe – easy Flammkuchen

Amount: 1 Flammkuchen; time: 10 minutes preparation, 30 minutes resting, 10 minutes baking time
Ingredients:
200 g flour
1 tsp salt
1 tbsp sugar
10 g yeast
1 egg
1 tbsp olive oil
70 ml warm water
5 tbsp plain yogurt
2 tbsp starch
Topping as desired
Recipe – easy Flammkuchen
Knead 200 g flour, 1 tsp salt, 1 tbsp sugar, 10 g yeast, 1 egg, 1 tbsp olive oil and 70 ml warm water to an elastic dough.
Let rest well covered for 30 minutes until dough has doubled in size.
Preheat an oven and a baking sheet to 445° F (230° C, upper- and lower heat).
Stir together 5 tbsp plain yogurt, 2 tbsp starch, salt and pepper.
Roll out the dough on a sheet of baking paper and spread yogurt-mix on top.
Top as desired. For example: tomatoes, herbs, pine nuts, caramelized onions, bacon bits and cheese.
Pull Flammkuchen on the baking paper onto the hot baking sheet and bake at 445° F (230° C, upper- and lower heat) for 10 minutes.
If a plant based yogurt and starch are mixed it results in the same creamy topping for a vegan alternative.
Inspiration time: what is your favorite topping for Flammkuchen? I am excited to try out your combos from the comments.