Chocolate Cherry Cake
I prefer cake recipes that do not require a lot of fuss. Something, that I can whip up in one bowl in 5 to 10 minutes in my kitchen, that I fill in my pan and pull out of the oven in under an hour.
If that recipe does not use fancy ingredients but instead things I am storing in my kitchen anyways – good. If that recipe can then be scaled to different sizes and occasions – great. If that recipe then can be adapted easily to fit my current cake-desires – even better.
And that is why I present you my all-round-choclate-cake recipe. You whip it up with just a whisk in a single pot in under 10 minutes. It only needs about 30 minutes in the oven. And depending on the size and extra ingredients you choose, you can easily vary its consistency.
If you want a chocolate cake, that is crumbly, but tastes due to the cherries (or other fruits of your choice) still fruity and moist. But if I want a cake, that from the beginning has more the consistency of chocolate truffles? Well then I will just half the recipe and bake the cake in a 7 inch round pan. Most of the time I will even add an extra shot of espresso to the dough, because I like the combination of coffee-choclate-cherries a lot. This results in a very creamy cake, that resembles more ganache in cake form than actual cake.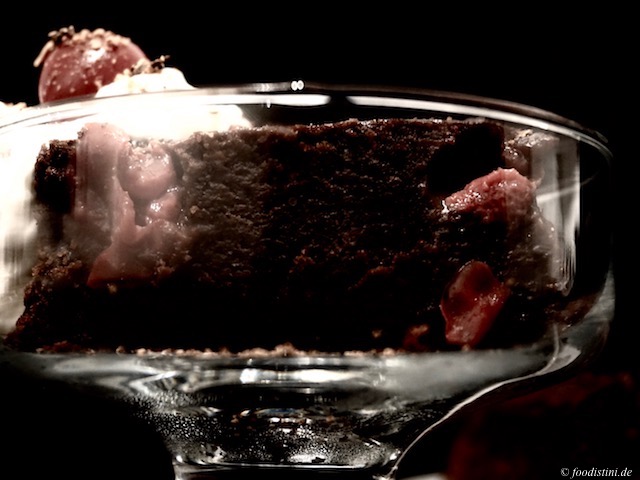 ---
Recipe – Chocolate Cake with Cherries
Amount: 2 baking tray
Prep time: 15 minutes preparation, 25 minutes baking
---
350 ml (1.5 cup) milk
250 g butter
200 g chocolate, chopped (I like to use 100 g dark + 100 g milk chocolate)
50 g white sugar
150 g brown sugar
1 pack vanilla sugar or 1 tsp vanilla extract
2 eggs
275 g flour
50 g cocoa powder (the unsweetened stuff)
1 tsp baking powder
1 pinch of salt
350 g cherries, without pits
---
Lay baking paper on a baking tray and grease the sides. Preheat the oven to 320° F (160° C, upper- and lower heat).
Bring 350 ml (1.5 cups) milk with 250 g butter to a boil in a big pot.
Add 200 g of chopped chocolate to the pot and stir well.<
Then add in 50 g white sugar, 150 g brown sugar and 1 pack of vanilla sugar (or 1 tsp vanilla extract) and stir well.
Now let the mixture cool down until a spoon dipped in the liquid and held against your lips only feels lukewarm. Only then mix in the 2 eggs (as they will otherwise clott if the temperature is too high).
Then stir in 275 g flour, 50 g cocoa powder, 1 tsp. baking powder and 1 pinch of salt. Scrape the dough onto your baking tray.
Decorate with the cherries and bake for 25 minutes at 320° F (160° C; until a toothpick inserted in the cake comes out clean).
---
keeps fresh well covered for 4 days outside the fridge. With each day the cake will become more moist.
Could also try: chocolate covering on top. A halved recipe baked in a 7 inch round pan for 35 minutes. Or adding an a shot of espresso.