Vegan Pralines: Spiced Coconut-Chocolatetruffels
Until now you couldn't find a single vegan desert recipe on the blog. Well this is on the one hand attributed to the fact that I myself do not eat a purely vegan diet. And on the other hand I just enjoy a cake with lots of eggs, butter and cream way too much (sorry to all vegans out there).
But for one sweet it is worth in my opinion to create it in a vegan fashion: these spiced coconut-chocolatetruffels. Because the creation of a ganache ("teachers voice": a tenderly melting mix of chocolate and cream) works splendidly with coconut milk. You can taste the coconut a little bit, but it blends perfectly with the other exotic spices in the chocolate such as ginger, cardamon, chili and cinnamon. I personally love a good semi-sweet chocolate with chili. But if this isn't really your thing, then feel free to reduces its content.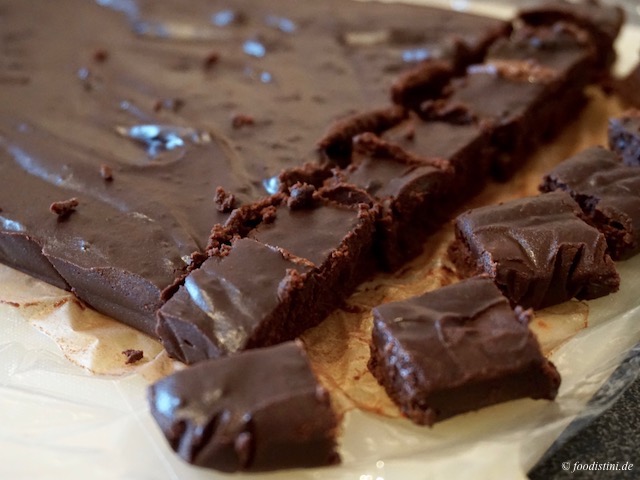 ---
Recipe – Spiced Coconut-Chocolatetruffels

amount: about 60 pieces; time: 15 minutes preparation, 60 minutes cooling

Ingredients:
200 ml (1 cup plus 2 tbsp.) coconut milk
300 g vegan semi-sweet chocolate
1 tsp powdered ginger
1 tsp cardamon
1 tsp dried chili flakes
1 tsp vanilla extract
1/2 tsp cinnamon
1/2 tsp nutmeg
1/2 tsp salt
about 10 tbsp cocoa powder
Recipe – Spiced Coconut-Chocolatetruffels
Place the closed tin of coconut milk in a small pan with about 1 cup of water. Turn on the stove and bring the water to a boil.
Meanwhile break 300 g of semi-sweet chocolate into small pieces (I prefer to do this while it is still wrapped, because then all the little bits stay in there and one avoids a mess). Then fill it in a bowl, that you can place over the boiling water in your pot (without water splashing in).
After 2 minutes in the boiling water pull out the can with a towel (careful hot). Place the bowl with the chocolate over the water and melt it.
Open the tin can and pour 200 ml (1 cup and 2 tbsp) of the now liquid coconut milk in a mixing bowl.
Then add the spices (1 tsp dried ginger, 1 tsp cardamon, 1 tsp dried chili flakes, 1 tsp vanilla extract, 1/2 tsp cinnamon, 1/2 tsp nutmeg, 1/2 tsp salt) to the coconut milk.
Add also the molten chocolate and stir everything together with a spatula (it will eventually all come together, be patient).
Now pour the mixture in a small pan lined with plastic wrap. My pan is about 10 inches x 6 inches. All that matters is that the mixture is about 1/2 inch high once you pour it in the pan.
Then place the pan for at least 60 minutes in the fridge to harden.
Now you can lift up the block on the edges of the plastic wrap and cut it into cubes with a knife (1/2 inch side lenght). If you wet your knife before each cut less will stick to the blade. The pralines look great as little cubes, but if you like the classic truffle form: powered your hands with a bit of cocoa powder and roll each cube between your palms to a little ball. The cocoa will prevent it from sticking to your hands.
Keeps covered for up to 7 days in the fridge.
Might also be good if you add 1 tbsp of rum to the mix.