Carrot Cake with a cream cheese frosting
What comes to your mind when you think about easter during your childhood? For me it is always the search for easter eggs in the garden of my grandparents. How we would search the place with small woven baskets in our hands or how when the weather wasn't good the easter bunny was actually allowed to hide the eggs in the living room. And he would always tell my mom where he hid them, so she could be sure we actually found all of them.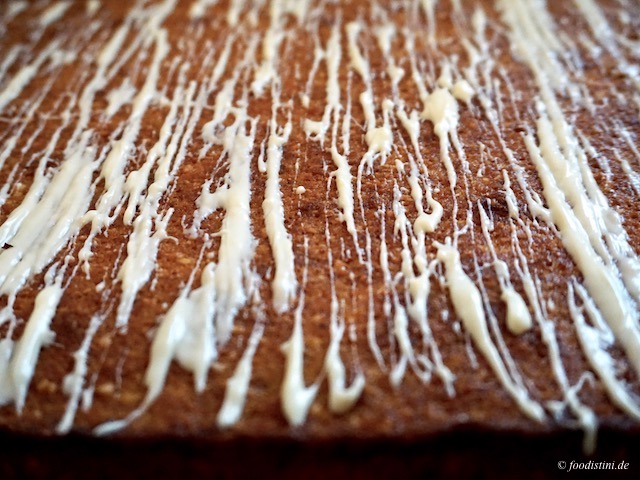 So I am think about lots of eggs and a bunny when I think about easter. And what do bunnies eat? Well carrots! And that is why I have today a carrot cakes for your easter feast with lots of egg and no flour (yay, gluten free!). The flour is here complexity replaced by ground almond. The sweetness and a certain creamy-moist consistency the cake gets through lots of grated carrot (here you can use up the ones that are not as firm anymore wonderfully) and molten white chocolate. But through the added ground coconut you still got something to bite in your mouth. (The recipe is adapted from a book called "Kleine Kuchen"* – *Affiliate Link – What is that? Transparency)
I wish you happy and peaceful easter days with or (hopefully not) without a carrot cake!
---
Recipe – Carrot Cake with a cream cheese frosting

Amount: 1 round pan (8 inch diameter); time: 15 minutes preparation, 40 minutes baking time

Ingredients for the cake:
100 g white chocolate, separated
100 g carrots
3 eggs, separated
1 pinch of salt
75 g (2/3 of a stick) softened butter
100 g ground almonds
25 g ground coconut
1/2 tsp cilantro (dried, powder)
1/2 tsp ginger (dried, powder)
Ingredients for the frosting:
200 g plain cream cheese
Juice and peel of half a lemon
100 g powdered sugar
Recipe – Carrot Cake with cream cheese frosting
Preheat the oven to 350° F (175° C, Upper- and lower heat) and prepare a small round baking pan (grease and dust with flour).
Chop up the 100 g of white chocolate and heat it in a small bowl for 30 seconds in the microwave. Stir well with a small spoon. Then heat it another 30 seconds. For me that is enough to melt the chocolate. If yours needs longer heat it in more 15 seconds intervals stirring well in between.
Peel the 100 g of carrots and grate them finely.
Separate the 3 eggs and beat the egg white stiff together with a pinch of salt.
In another bowl beat 75 g softened butter and 50 g brown sugar to a foamy consistency. Then add one at a time mixing well in between the egg yolks.
After that mix in the molten chocolate expect 1 tablespoon, 100 g ground almonds, 25 g grated coconut, 1/2 tsp cilantro and 1/2 tsp ginger (both dried). Then fold in the stiff egg whites (so first add one half. Fold it in well with a spatula. Then add the other half and be very gentle while folding it in).
Fill the dough in the prepared pan and bake it at 350° F (175° C, Upper- and lower heat) for 40 minutes.
Let the cake cool. Melt reserved tablespoon of white chocolate once more and draw stripes on the cake with a small fork.
For the frosting mix 200 g plain cream cheese, the juice and peel of half a lemon and 100 g powdered sugar together. Dollop it on your slice before serving it.

The cake keeps well covered for 4 days outside the fridge. But please store the frosting in the fridge.