Tequila Sunrise Cake
This moist orange cake a la tequila sunrise was one of the first birthday cakes I made for new friends in Frankfurt after my move here to study in this beautiful city (for a dorm kitchen party at H). And since then it has been a regular guest at gatherings with friends.
If you thought this easy and popular cocktail (a favorite among friends such as T) called Tequila Sunrise couldn't be transformed into a cake: let me prove you wrong. Grenadine and root beet juice (don't worry you can not taste it, you could even swap it with red food coloring. But it won't dye the dough as much) create the beautiful signature red color swirl. Lots of orange, orange liqueur and tequila bring the rest of the cocktails taste to your tongue. Just to make sure it really tastes like tequila after baking, the cake is then saturated with an orange-tequila icing.
If you do not really fancy the idea of bringing a cocktail into the form of a cake, then just bake a tasty and moist orange bundt cake (and replace all alcohol with orange juice).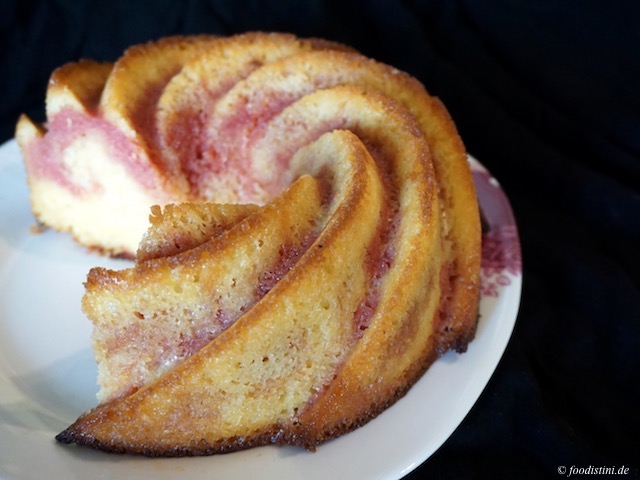 ---
Recipe – Tequila Sunrise Cake

Amount: 1 bundt cake; time: 25 minutes preparation, 45 minutes baking time
Ingredients:
170 g soft butter
200 g sugar, separated
Zest of 1 orange
3 eggs
100 g sour cream
1/2 tsp salt
1 pack (15 g) baking powder
200 ml orange juice, separated
2 tbsp Cointreau (or another orange liqueur)
6 tbsp Tequila, separated
300 g flour
2 tbsp Grenadine
2 tbsp root beet juice
30 g powdered sugar
Recipe – Tequila Sunrise Cake
Preheat the oven to 345° F (175° C, upper- and lower heat) and prepare a bundt cake form (grease it if you are not using a silicon mold).
Beat 170 g soft butter with 150 white sugar and the zest of 1 orange until creamy.
Stir in the 3 eggs one after another (add one and stir until the mass is consistent again before adding the next).
Add now 100 g sour cream, 1/2 tsp of salt and 1 pack (15 g) of baking powder.
Now add the liquids (150 ml orange juice, 2 tbsp Cointreau and 4 tbsp tequila) to the bowl and stir carefully (it splashes easily).
Add 300 g of flour and stir just long enough until it is mixed in.
Then fill 2/3 of the dough into the cake form.
Add to the remaining third in the bowl 2 tbsp grenadine and 2 tbsp root beet juice. Stir together and fill into the cake form (not stirring in there).
Bake the cake at 345° F (175° C, upper- and lower heat) for 45 minutes until a wooden skewer inserted into the cake comes out clean.
Let the tequila sunrise cake cool in its form. Then turn onto a cooling rack and remove form.
Warm 50 g of white sugar and 50 ml orange juice in a small pan just long enough until the sugar has dissolved. Remove from heat and add 2 tbsp tequila and 30 g powdered sugar. Spread the icing on the cake in multiple sessions waiting until most has been absorbed by the cake in between.

Please do not swirl the layers together like you would do with a classic Marmor-Cake. The different densities of the dough layers as well as the baking process will make sure on their own that the red part gets swirled into the cake.
The cake will keep fresh up to 3 days outside of the fridge well covered.