Tequila Orange Chicken on rice noodles
Oh once more a dish with orange and tequila? Oh yes, but this wonderful flavor combination now turns up in a hearty variation. I really do like a fiery seared chicken breast. Especially if it has been left in this slightly sweet marinade so that the outside will caramelize when cooked. But if you like your dishes to be vegan, then this marinade of sweet orange and slight bitterness from the tequila is a great opportunity to boost tofu or something similar in flavor.
And one more thing I like about this dish: it cooks in just 15 minutes in the evening. Yay for quick dinners when the cook is hungry!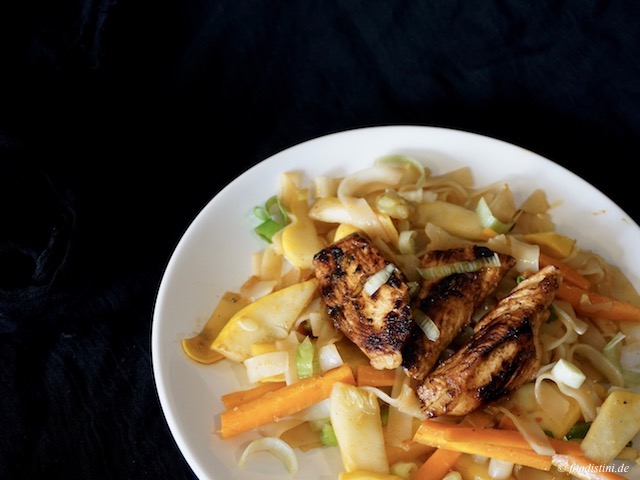 ---
Recipe – Tequila Orange Chicken

Amount: 2 portions; Time: 25 minutes preparation, 2-3 hours for marinating
Ingredients:
1 tsp paprika, 1/2 tsp pepper, 1/2 tsp chilli, 1 tsp salt
1 tbsp brown sugar
zest and juice of 2 oranges
2 tbsp olive oil
1 minced garlic clove
200 g chicken breast
1 carrot
1/2 paprika
1/2 zucchini
1 tbsp butter
2 portions wide rice noodles
1 green onion
Recipe – Tequila Orange Chicken
Place in a big deep plate 1 tsp paprika, 1/2 tsp ground pepper, 1/2 tsp chili, 1 tsp salt and 1 tbsp brown sugar.
Then wash 2 oranges, grate the zest of both into the plate and afterwards add their juice as well.
Finally add 2 tbsp olive oil and 1 minced garlic clove to the marinade and stir together.
Cut 200 g chicken breast into stripes or cubes and place in the marinade. Cover well and let sit in the fridge 2-3 hours.
To serve first cut 1 carrot, 1/2 paprika and 1/2 zucchini into thin, about thumb-long (Julienne-) stripes.
In a wok on very high temperature melt 1 tbsp butter and fry the carrot. After about 2 minutes add the paprika and zucchini, seasoning with a bit of salt and pepper. After frying everything for about 1 minute take it out of the wok.
Bring water in a pot to a boil and cook 2 portions rice noodles according to the packaging instructions.
Meanwhile add the chicken pieces without the marinade (reserving it for later) to the hot wok and sear as well. They should have a dark brown, caramelized outside, but should also be cooked through on the inside (cut one piece open to check, turning down the heat if the inside needs a bit longer than the outside).
As soon as the chicken is done take it out of the wok and add the marinade to the wok. Let it boil bubbling for at least 3 minutes.
Meanwhile cut 1 green onion into thin rings.
Afterwards add everything together (cooked rice noodles, vegetables and green onion) to the sauce, stir together and if necessary season with salt and pepper. Serve garnished with the chicken.

The marinade is enough for the doubled amount of meat (please turn multiple times during the marinating process if the liquid does not cover the chicken completely).
Simple Vegan Option: swapping the chicken with tofu and the butter with olive oil.
The marinated meat is also tasty as:
Filling for Tacos (thicken the sauce with 1 tsp corn starch dissolved in 2 tsp water)
Salattopping (using the sauce as your dressing)
over rice instead of noodles